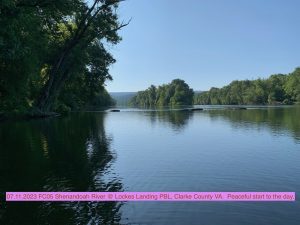 These are the E. coli results for the water samples that were collected yesterday, Tuesday, July 11, 2023.  The sites located on the Main-stem, North Fork, and South Fork of the Shenandoah River had relatively low levels of E. coli, while the E. Coli levels in Manassas Run however remain elevated.
https://fosr.org/wp-content/uploads/2023/07/FOSR-2023-Summer-Quantitative-E.-coli-Concentration-Results-through-07.11.2023.pdf
FW 36 –

248.1

 MPN E. coli  Manassas Run, upstream of the confluence with the Shenandoah River at Morgan Ford low water bridge in Warren County, VA
As a benchmark, the FOSR uses the single sample concentration threshold of 235 E. coli colony-forming units per 100 mL of water sample for primary recreational use that was included in the Virginia water-quality standard prior to October 2019.  Meaning that if a single freshwater grab sample had E. coli concentration/levels that exceed 235 CFU per 100mL of water sample then the water was considered unsafe for primary recreational use.  These data represent a snapshot of the water quality on the date, time, and under the conditions that the water sample was collected.