The summer season is upon us and the Friends of the Shenandoah River is here to provide you with E. coli data courtesy of our VA DEQ Level III water quality testing laboratory.  These data can help you to make an informed decision about potential health risk exposure to pathogens associ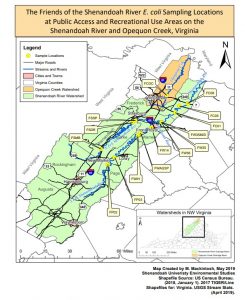 ated with the presence of E. coli in the water when recreating in the River at the specified sites.
This is the link to find the first set of E. coli data for Summer 2023.
https://fosr.org/wp-content/uploads/2023/05/FOSR-2023-Summer-Quantitative-E.-coli-Concentration-Results-through-05.30.2023.pdf