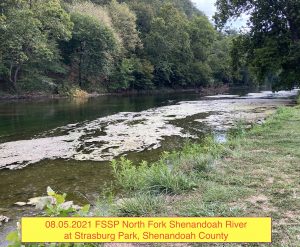 IMPORTANT: VDH has expanded the stretch of the North Fork of the Shenandoah River included in the Harmful Algal Bloom Advisory. The stretch of the River included in the updated advisory now starts at Willow Grove, south of Woodstock, in Shenandoah County, then north all the way to Front Royal, in Warren County.
VDH – The advisory for the North Fork Shenandoah River has been expanded due to the detection of cyanobacteria in algal mats at sites above and below the previous advisory issued from Lower River Road to Strasburg. While cyanobacteria mats at those three locations appeared wide-spread, they are not wide-spread throughout the entire ~53 mile stretch of this advisory. Weather and other environmental factors can cause potentially toxic algal mats to detach from the river floor, float along the surface, and accumulate along shorelines. People and pets should avoid contact and accidental ingestion of algal mats within this area of the river.
The drinking water plants at Woodstock, Strasburg, and Winchester are working with state and county officials to ensure the continued safety of drinking water and will continue to monitor for algal toxins at the plant intake.
https://www.vdh.virginia.gov/content/uploads/sites/178/2021/08/NF-Shenanodah-HAB-Status-Report-8.10.21.pdf