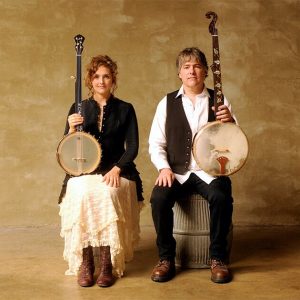 The Friends of the Shenandoah River (FOSR) has been selected by Béla Fleck & Abigail Washburn to be the beneficiaries of all the net proceeds from the merchandise sales during their performance on April 11, 2017 being held at the Ohrstrom-Bryant Theatre on the campus of Shenandoah University. For the FOSR to receive as much of the proceeds as possible, Shenandoah Conservatory of Shenandoah University has also agreed to waive all fees charged to the performers.
Béla Fleck & Abigail Washburn have a tremendous following, their performances, as the one on April 11, almost always sell-out.
Sixteen-time Grammy Award winner Béla Fleck is perhaps best known for his groundbreaking work with the Flecktones, but his virtuosic skills have led to a staggeringly broad array of collaborations throughout the musical world—from jazz duos with Chick Corea and a concerto composition for the Nashville Symphony, to an in-depth exploration of the banjo's African roots documented in the 2009 film Throw Down Your Heart.
Abigail Washburn, an innovator in her own right, is a postmodern, old-time singer-songwriter. She has drawn critical acclaim for her solo work and collaborations with the all-female American old-time music group Uncle Earl, as well as her folk-music diplomacy efforts in China. Her earthy sophistication blends seamlessly with Fleck's virtuosic ingenuity, creating a musical partnership like no other.
While touring in the United States, Béla and Abby have the good fortune of spending a single night in many diverse communities. One day they had the epiphany that they would find deep meaning in donating the entirety of our merchandise sales (above and beyond what it costs to make the item) to a local non-profit working day-in and day-out to improve the lives of people in each local community. During their performances, Béla and Abby take a few moments to share with the audience information about the featured non-profit organization, the important roles that local non-profits fill in the communities. They even stop the show to raffle off a Gold Tone Ukulele Banjo.
The Friends of the Shenandoah are very grateful to Béla, Abby, Josie Hoggard and Shenandoah Conservatory for this unique opportunity.
To learn more, visit www.belafleck.com, www.abigailwashburn.com and www.greeningpledge.com.
1 Comment