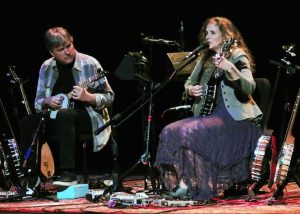 Wow what a spectacular, unique, and spiritual performance Béla Fleck and Abigail Washburn put on at the Ohrstrom-Bryant Theatre last night.  Béla and Abbey played to a sold-out house of an audience ranging in all ages.  The music was engaging and reflective.
The Friends of the Shenandoah River is humbled and appreciative to have had the opportunity to share in the evening's event.  Béla Fleck & Abigail Washburn choose the FOSR to be the beneficiaries of all the net proceeds from the merchandise sales during this performance.  For the FOSR to receive as much of the proceeds as possible, Shenandoah Conservatory of Shenandoah University also waived all fees charged to the performers.
Before the intermission, Abbey eloquently described the origin, mission, accomplishments and current projects of the FOSR.   Many of the guests visited the FOSR's display and spoke with Terry Lay, George L. Ohrstrom, II and Karen Andersen.  They were in attendance representing the FOSR.
1 Comment